GTBets Review – Sportsbook
GTBets.eu arrived on the online betting scene back in 2011.
Since their arrival they have been one of the fastest growing sportsbooks in the US betting market. Based in Curacao, the countries Gaming Control Board also licenses the bookmaker.
GTBets has made good more than $40,000 in backed payments by now the now defunct sportsbooks, VIP Sportsbook, BetGameDay, and NINE. They bought their software platform and have retained some management from the closing of these sportsbooks.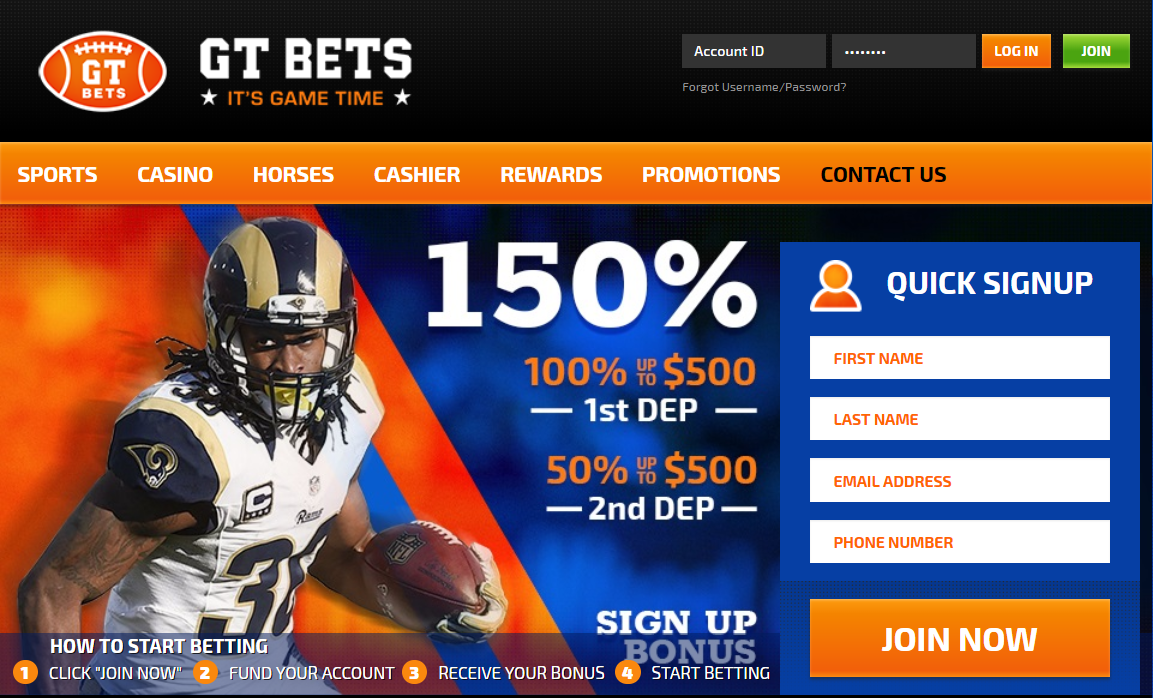 GTBets takes bets from players from the majority of US states, however they do not allow players from Washington D.C., Kentucky, Maryland, Lousiana, Missouri, New York, and Washington State. Along with their racebook and sportsbook options, they have an online casino available.
This GTBets review will be adjusted through changes of the GTBets.eu site products and promotions.
---
GTBets Deposit Methods
Here are the ways in which you can make deposits into your GTBets account –
Visa – $35 min
MasterCard – $35 min
American Express – $35 min
Bitcoin – $3 min / $3,000 max
Pre-paid gift cards – $35 min / $1,000 max
Direct cash – $100 min / $2,000 max / $10 fee for deposits under $200. Deposits over $200 are free.
Quick cash – $100 min / $1,000 max / $10 fee for deposits under $200. Deposits over $200 are free.
Skrill – $35 min
Neteller – $25 min
Something we do like about their options, which is a rarity nowadays with US-facing betting sites, is that they do not charge deposit fees unless you deposit a small amount using the quick cash or direct deposit options.
BTBets fee-free deposits make up for their slightly higher deposit minimums. A lot of other sites have a minimum deposit amount of $20, so this seems like a fair trade-off.
One of our dislikes is that your max deposit limits differ based on your VIP status. If you want to deposit more than $1,000, you should not make somebody wait until they've bet enough to obtain a higher VIP status.
That said, chances are this will only impact a small number of bettors.
This GTBets review will update deposit methods should they change.
---
GTBets Withdrawal Methods
Here are the ways in which you can withdraw funds from your GTBets account –
Bank Wire – $100 min / $5,000 max / $60 fee
Bitcoin – $300 min / $3,000 max / 1 free cash out per rolling 30-day period. Otherwise 5% fee (up to $60 max).
Direct cash – $50 fee or 8% of requested amount.
Quick cash – $50 fee or 8% of requested amount.
Some things worth noting include :
If you deposit via credit/debit card, you'll need to get a bank wire for your first two times that you cash out. After that you are able to ask for cash outs straight to your card.
Cash outs are limited to 1 per week (7 day period). Withdrawals are able to be  processed and delivered in as fast as same day, to 2-3 days, to up to  2 weeks. The payment period will depend on the withdrawal method you choose.
We do like the speed of their cash outs, and have noticed in forums that customers are generally very happy. Which is sometimes rare with US facing online betting sites.
They don't offer paper checks as a withdrawal option which is disappointing, an option that you'll find at the majority of other US sportsbooks.
Withdrawal fees are perhaps a little high also.
This GTBets review will update withdrawal methods should they change.
---
GTBets Markets and Odds
GTBets, as a recreational sportsbook, places their focus on the most popular sports betting markets in North America.
This means that the NFL and other popular American sports have a large variety of betting markets consistently available. Customers can easily scroll down on to the betting rules page to find what betting markets and bets are available for each sport. Along with sides and totals, BTBets offer teasers, parlays, futures, props, halftime lines, if-bets, and moneyline wagers.
They also offer betting markets for over a dozen world soccer leagues, including big events  like the World Cup and UEFA Champions League.
They offer live betting, but not on every sports event in the way that some other sportsbooks do. BTBets live betting menu is limited, and live betting is available mostly for nationally televised games.
GTBets.eu live betting interface –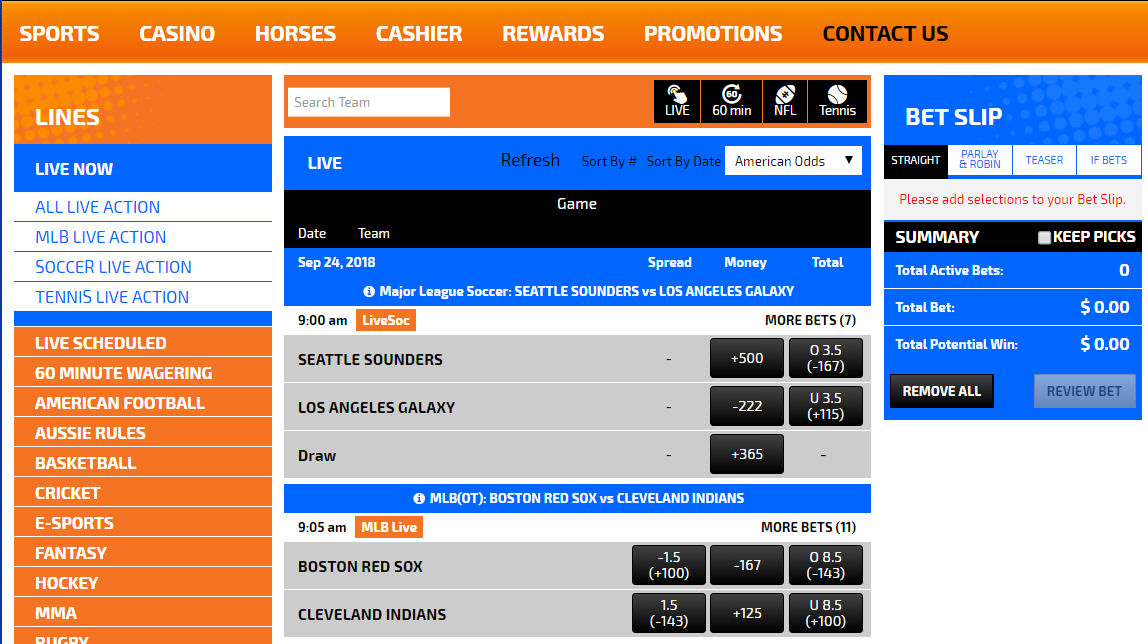 Overall, customers will find competitive pricing on point spreads and totals. Because BTBets focuses on amateurs, underdog lines are more attractive, due to the public's propensity to

bet on favorites. BTBets teaser odds, in particular their NFL markets are very good, and they they are one of very few sportsbook to offer 3-team, 6-point NFL teasers at +180. Their teasers odds are some of the best we've seen.
Per usual, the bets you can make will depend on the market and specific event you're betting on.
GTbets focus on the NFL, often to the detriment of their other betting markets. But, who's to say this is a bad decision, considering their audience is American males betting recreationally on the most popular sport in North America.
Like the majority of US facing sportsbooks they have low betting limits. Most wagers are capped at around between $500 and $2,000, however you'll see some exceptions. For example, you are able to wager $5,000 on NFL/NBA sides, $3,000 on MLB and NCAA sports, and $2,000 for NHL. Everything else has smaller limits.
Live betting is available on GTBets, however you'll find the selection of betting limited.
Aside from that, experts say you will find competitive pricing on spreads and totals. Since they focus on recreational bettors (they don't like winners), underdog lines are more attractive because of the public's tendency to bet on favorites.
The GTBets.eu sportsbook is able to be used from a desktop, or from an Apple, Android and BlackBerry mobile device.
This GTBets review will update markets and odds should they change.
---
GTBets Sportsbook Promotions
150% Sign-Up Bonus up to $500 (1st Deposit)
50% Sign-Up Bonus up to $500 (2nd Deposit)
Start your GTbets.eu account with their CASH sign up bonus. Make your first deposit and  receive a 100% cash bonus up to $500, and a 50% up to $500 on your second deposit.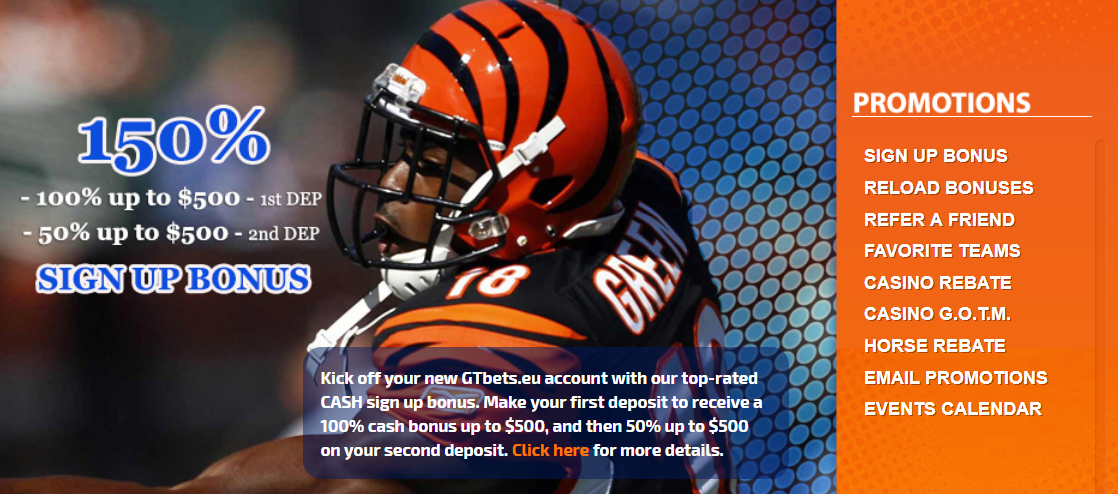 ---
5% up to 50% Reload Bonus on every deposit! 
Reload bonuses will be credited to your betting account automatically for all deposits! Just log into your BTBets.eu account and check the Account Balance page to see what Automatic Cash Bonuses you qualify for.
---
Favourite Teams
Here's how it GTBets.eu Favourite Teams promotion works:
Select your two favorite NFL and NCAAF teams, and your two favorite NBA and NCAAB teams. Once you select these teams you will not be allowed to change them for the season.
You will get 1/2 Point Free on every game for your two favorite 

NCAAF 

and Basketball teams and 1/2 Point Free on every game for your two favorite 

NFL

 and NBA teams. For example, if your favorite team is the Detroit Lions and they are favored at -4, you'll be offered the line at -3.5.
The lines for your favorite teams will be highlighted in yellow on the odds pages so they are easy to find. (A great promotion in our opinion!)
---
Progressive Parlay
Take advantage of the Progressive Parlay and you could be $50,000+ richer!
Progressive Parlay is a $5, 15 team parlay with a minimum payout of $50,000 to any winner. Check each week for the new jackpot amount, which will increase each time this bet is played!
GTBets are offering a $2,000 payout for anyone that can go 0-15!
How to Play:
Bet $5
Pick all 15 correctly and win the jackpot
Ties Lose
Full game sides and totals only
NFL, NCAA Football, NBA and NCAA Basketball apply
Rules:
Progressive Parlay Jackpot can only be hit once per day per client.
BTBets reserve the right to split jackpot if tickets containing the same teams are used by different clients
---
Are GTbets Good?
In our opinion yes, GTBets.eu is a legitimate online betting site that offers everything you'll need for a quality online betting experience. GTBets isn't a sportsbook that will keep you on for the long haul if you're winning, but they're a good option considering how new they are to the market.
BTBETs range of betting markets aren't as good as elsewhere but they do pay quickly and offer a large range of bonus offers and betting promotions. BTBet's connection to defunct sportsbooks is worrisome, but they haven't had many complaint at SBR over several years.
Worth a shot, for the promotions and bonus at least.
This GTBets review will be adjusted through changes of the GTBets.eu site products and promotions.