Sportsbetting.ag Review
Below is our Sportsbetting.ag online gambling website review, including our experience with sports markets on the Sportsbetting site, the history and the pros and cons of using the Sportsbetting website for your betting needs.
This Sportsbetting.ag review is updated through different versions of the site.
Join Sportsbetting.ag
DEPOSIT
BONUS
JOIN
50% Bonus
Up to $1,000
50% Crypto Bonus
Up to $500
New customer free bets only. Turnover requirements apply. Full T&Cs on website.
---
Who are Sportsbetting.ag?
SportsBetting.ag began taking online bets back in 1999. It is estimated that over 1 million people have created accounts since then.
The SportsBetting brand is ranked one of the top online sportsbooks for use in the U.S, however they didn't always have such a great rep. Up until 2012, there were a number of reports of them not paying out customers and trying to scrape players on rollover bonuses.
That seems to have been taken care of since BetOnline took ownership of Sportsbetting.ag. After buying SportsBetting.ag, BetOnline execs discovered that $1.5m plus in payouts were owed to SportsBetting.ag's customers.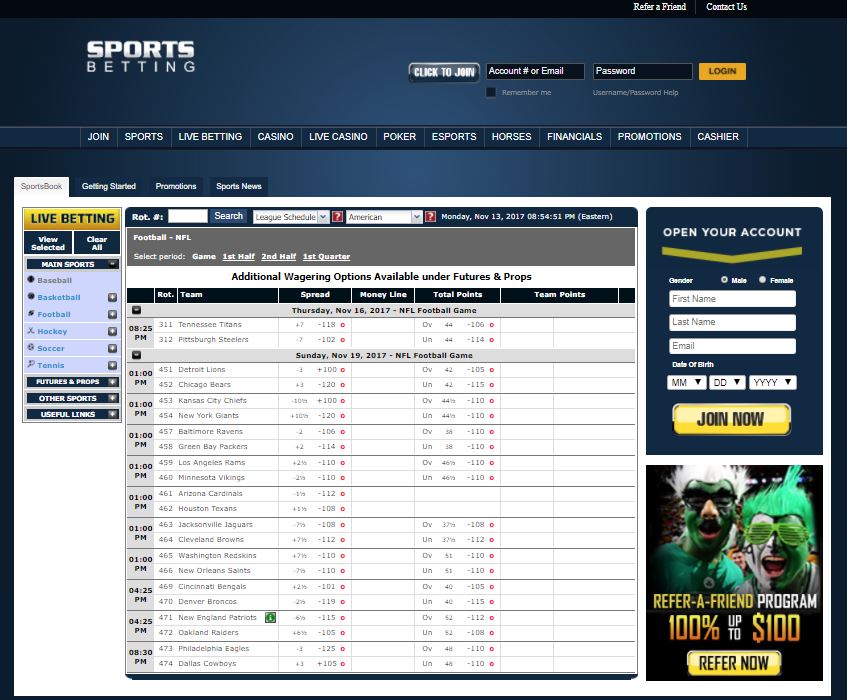 Since the aquistion, BetOnline has been committed to rectifying the situation with customers and returning what was owed. Under BetOnline, SportsBetting.ag has really improved, which has resulted in a huge decrease in complaints from clients.
It's difficult these days to find a site that offers sports betting, casino, poker and bingo games in an all in one package and those that do exist are pretty average, with a "good-enough" attitude across their products. Sportsbetting.ag excel in all areas, and that's what make them different.
But they are of course not perfect, and each of the Sportsbook, Racing and Casino offerings can be improved.
If you're looking for an all-in-one gambling site that accepts players from all 50 states, we recommend these guys.
---
Sportsbetting.ag Overview
Sportsbetting really is a one-stop-shop for gamblers offering a sportsbook, casino and poker room.
They also have a financial betting section (if you like riding the markets), and a few games of skill (within their casino).
One thing we recommend is paying some attention to their promotion terms and conditions. All fine print SHOULD be read, but really how many of us roll like that?… We noticed many that declare you cannot cash out winnings within a certain period of time, some within 30 days of making a deposit.
The may do this to protect themselves from customers hitting them for free bets and running. But read the T&C's ladies and gentelman to avoid confusion later.
CLAIM YOUR SPORTSBETTING OFFER
---
The Sportsbook 
The markets are broken into two different sections – "Main Sport"s and "Other Sports".
They should really change this because we're not seeing markets such as the NHL or NCAA basketball in main sports, which they obviously are for any bettor.
Other futures and props markets available include F1, entertainment, golf, MLB props, NBA team wins and NBA futures, NCAA futures, NHL futures and elections.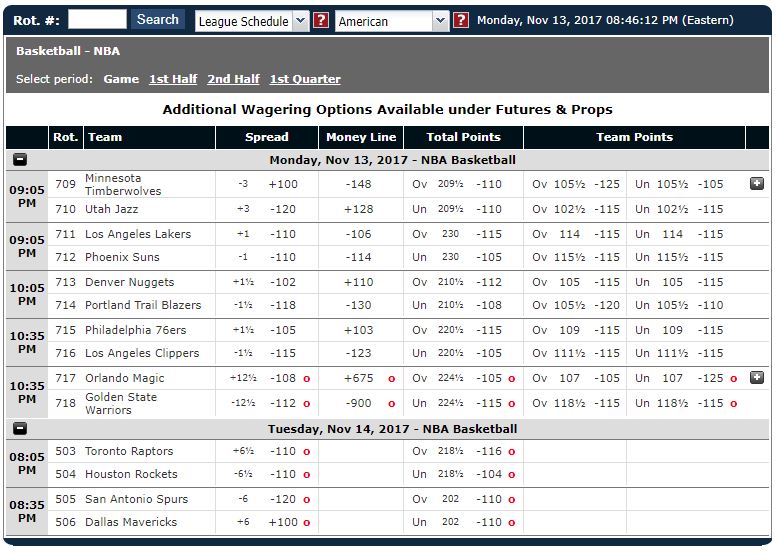 Live betting is also available for those of us that like an adrenaline rush. You can bet on individual matches or use their multi-event tab to bet on multiple events at the same time.
The minimum bet through all markets on Sportsbetting.ag is $1 (nice). Their max limit varies however. $500 is a common limit among exotic markets/events, with limits such as $5,000 for baseball totals, $10,000 for money lines and $1,000 for team total points. $15,000 on some NFL bets and $25,000 on big events such as Super Bowl. spreads. Further betting limit information is available on their website.
There is also a Racebook, where you can bet on races held at tracks such throughout the U.S
Bets can be placed from your computer, tablet or phone. Their site is compatible with the iPhone, iPad and Android devices.
---
The Sportsbetting.ag 'Player Props' Betting Product
Our favorite feature of the Sportsbetting.ag site, and one of the best, most unique and creative ways to place bet online.
With Sportsbetting.ag Player Props, sports will include their own statistical categories, but not all players for each game are shown, as it's necessary to wait until the day of, or up to just a couple of hours before the start of a match to see the final team lineups.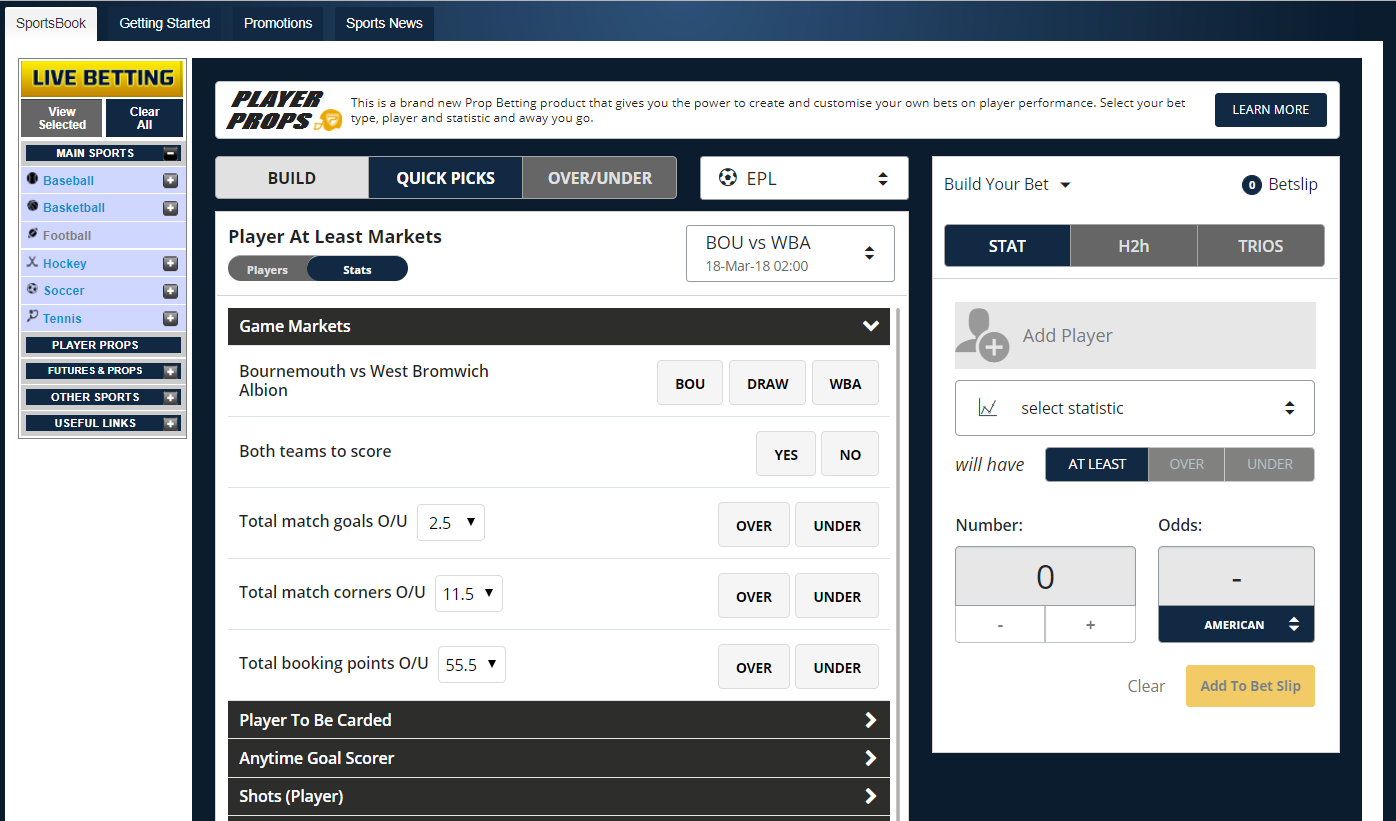 For an NBA example, there are currently 3 different types of bets that you are able to take, we'll us Points for this example:
'Head to Head' Player Bet – Player A will score more points than Player B
'Head to Head to Head' Player Bet – Player A will score more points than Player B and Player C.
Single 'Statistic' Player Bet – Select a single player to score a certain number of points.
Combined 'Statistic' Player Bet – Player A + Player B will score X amount of points.
There are different variants of these categories for each sport.
An awesome product, and of of the true unique betting experiences online today.
Worth registering with Sportsbetting.ag for this alone.
---
Free Bets, Bonuses and Promotions
There are many offers, promotions, cash back and deposit offers at Sportsbetting.ag including, but not limited to the following –
75% Welcome Bonus – Sportsbetting.ag will give you a 75% match on your first deposit up to a max of $1,000. This is a free play bet with a 12x rollover. Only available on the sportsbook.
$25 Free Live Bet – Make your first live bet and if it loses, you will be given up to $25. (6x rollover.)
50% Kickoff Reload Bonus – sportsbetting.ag offer a 50% match reload bonus (we love this, also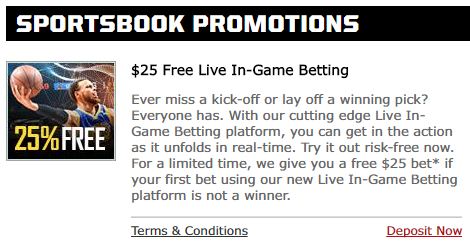 offered by brother BetOnline). This is good up to $1,000. (10x rollover, Sportsbook only).
NHL Reduced Juice – 10-cent NHL lines.
MLB Dime Lines – Dime lines up to -194 during the MLB season, all the way through to the end of the World Series.
$50 Free Mobile Bet – As with the live-bet, make your first mobile sports bet and if you lose, you'll receive a reimbursement up to $50 (6x rollover).
$25 Free Horse Bet – Make your first bet in the Racebook and if your bet loses you'll be reimbursed for your loss up to $25. (6x rollover).
A solid selection of promotions and free bets that change with the sporting and racing seasons.
---
Sportsbetting.ag Deposits and Withrawals
SportsBetting.ag supports the following methods of deposit:
Visa/Mastercard/Amex
Person to Person
Money Orders
Bitcoin
Litecoin
Bank wires
Check by mail
Full list –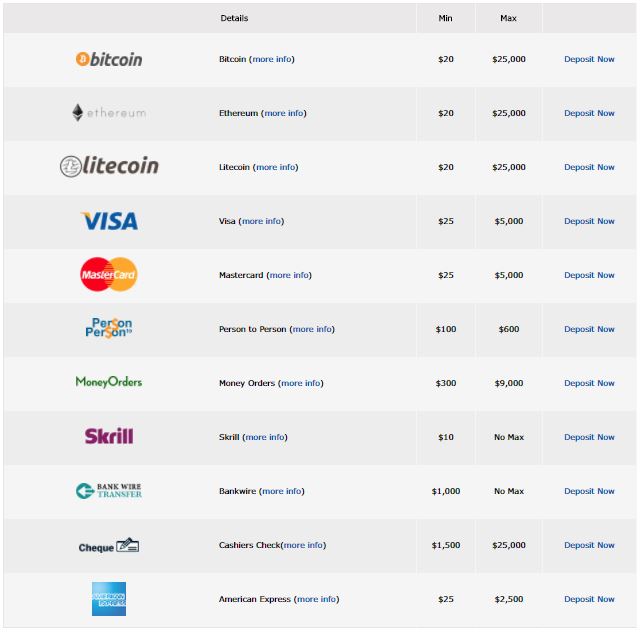 SportsBetting.ag offer flexible deposit and withdrawal options. If you're depositing with Bitcoin, the minimum deposit is $20. Anything else, the minimum deposit is $25.
Withdrawing seems to be as simple as depositing (certainly not always the case).
You can cash out using:
Person to Person transfers
Bank wires
Check by Mail, Courier or Check Express
Litecoin
Bitcoin
Full list –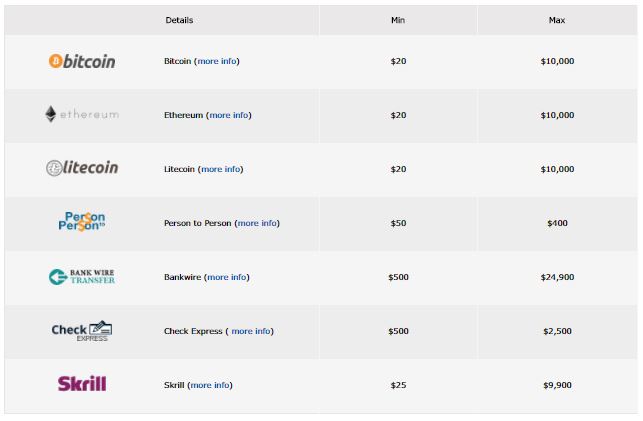 The minimum withdrawal for Bitcoin is $20 while Skrill is $25.
Person to Person transfers have a minimum of $50, with the remaining cash out options being a $500 minimum.
There are fees associated with all withdrawal methods on SportsBetting.ag (ugh, also with BetOnline, the bigger brother). We recommend Bitcoin as it only charges a 2% fee. Person to person cash outs range from $26 to $101 per withdrawal. Bank wires generally cost between $45 and $75.
Getting a cheque in the mail usually happens within 30 days for a $25 fee.
---
Conclusion
Sportsbetting.ag is a legit all-in-one wagering site, who've actually done it quaite well (discounting the rocky past). While there is room for improvement, you can sign up now as is and be plenty happy.
Now backed by big-brother BetOnline.ag, you can be sure that they will be able to provide a quality wagering experience across Sports, Racing and Casino into the foreseeable future.
We recommend you join Sportsbetting.ag today if you love to bet on everything.
Join Sportsbetting.ag
DEPOSIT
BONUS
JOIN
50% Bonus
Up to $1,000
50% Crypto Bonus
Up to $500
New customer free bets only. Turnover requirements apply. Full T&Cs on website.
---
Notes and Sources – 
This Sportsbetting.ag Review will update with changes to the Sportsbetting.ag products, specials and offers.