Biggest NBA Off-Season Trades In History
This NBA off-season has seen one of the bigger trades in memory with superstars Kyrie Irving and Isaiah Thomas swapping teams, marking an unusual day as fierce rivals rarely engage in such massive moves.
Let's take a look back at some of the biggest off-season trades in NBA history…
9 July 1968 – Philadelphia 76ers traded Wilt Chamberlain to the Los Angeles Lakers for Jerry Chambers, Archie Clark, and Darrall Imhoff
Chamberlain averaged 24.3 points, 23.8 rebounds and a career-high 8.6 assists per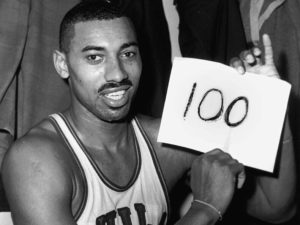 game in 1967-68 but was traded away for what amounted to a sackful of nothing.
Owner of the only 100 point scorer in NBA history, 'Wilt the Stilt' achieved statistical feats beyond the normal man but was never well regarded as a teammate, and was moved out the door after tallying 'only' 14 points and 34 rebounds as the 76ers lost a 3-1 series lead.
16 July 1975 – Los Angeles Lakers traded Kareem Abdul-Jabbar and Walt Wesley for Junior Bridgeman, Dave Myers, Elmore Smith and Brian Winters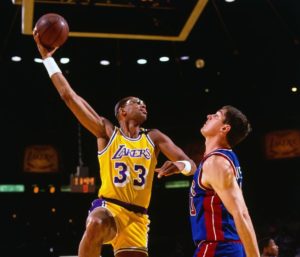 Seven years after stealing Chamberlain, the Lakers acquired another all-time top 5 centre in Jabbar who went on to win five championships and three NBA MVP awards as a Laker.
In his first season in 1975-76, he averaged 27.7 points and career-high marks of 16.9 rebounds and 4.1 blocks per game. He retired a Laker as the NBA's all-time scoring leader, third in rebounds and owned was what considered the most undefendable shot of all-time, his patented skyhook.
22 June 1987 – Seattle Supersonics traded Scottie Pippen and a first-round pick to the Chicago Bulls for Olden Polynice, a future second-round pick and a future first-round pick.
Michael Jordan is widely recognised as the greatest basketball player ever, but his
sidekick had a claim to be one of the greatest to ever play in his own right. That man was Scottie Pippen, who could have been a Seattle Supersonic alongside Shawn Kemp and Gary Payton.
Instead, Seattle traded him to Chicago and enabled him to form a lethal one-two punch with Jordan. Arguably the most versatile pair in NBA history, their lockdown defence and offensive prowess was the centrepiece of an unmatched six titles from six NBA appearances.
17 July 1992 – Philadelphia 76ers traded Charles Barkley to the Phoenix Suns for get Jeff Hornacek, Andrew Lang and Tim Perry
Barkley was larger than life in so many ways; 'The Round Mound of Rebound'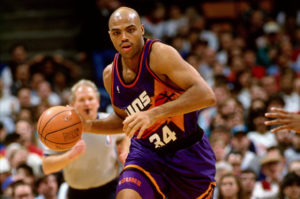 always carried a larger frame, and his mouth meant he was always good for a quote. Philadelphia grew tired of the sideshow that came with Sir Charles, and traded him away for what amounted to be three solid role players, at best.
This trade set the (low) standard for everything that shouldn't happen when you trade away a superstar – if you don't at least get a star back in return, you have to get multiple draft picks. Philadelphia took years to emerge from the backlash of this trade.
11 July 1996 – Charlotte Hornets trade Kobe Bryant to the Los Angeles Lakers for Vlade Divac
OK, technically Kobe was never a Hornet as it was a pre-draft trade for the 13th pick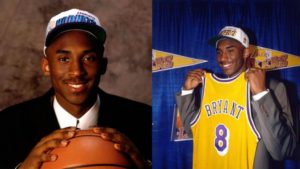 but nonetheless this is one of the biggest trades in NBA history, full stop. While Divac carved out a solid career in LA and later for the Sacramento Kings, Bryant was a five-time NBA champion, two-time Finals MVP and the NBA MVP in 2008.
He was an assassin competitor, scored the second most points ever in a game when he scored 81 against Toronto and ranks third in the most ever games scoring above 50 points, doing it twenty four times.
Oh yeah, he also scored 60 in his last game.
24 June 1998 – Milwaukee Bucks trade Dirk Nowitzki and Pat Garrity to the Dallas Mavericks for Robert Traylor
Early in his career, Nowitzki looked a bust. Dallas looked to have made a gross
misjudgement as the German bumbled his way through a disappointing first few seasons. Once it all clicked, he became one of the best offensive players in history, winning the league MVP in 2007 and playing one of the all-time great post-seasons in leading the Mavericks to their first NBA title in 2011.
Traylor struggled through a brief and inconsequential NBA career before tragically losing his life at just 34, in 2011.
3 September 1982 – Utah Jazz traded Dominique Wilkins to the Atlanta Hawks for John Drew and Freeman Williams
The Jazz had the #3 pick in the 1982 draft and selected the high-flying Wilkins, but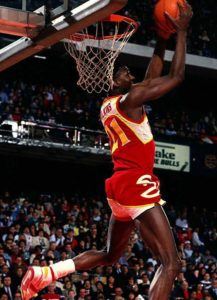 couldn't keep him and were forced to trade him to Atlanta for Drew and Williams.
In some parts, it wasn't a dreadful trade for the Jazz as Drew came into the deal as a career 20 point scorer for Atlanta but after just one season in Utah he became the first ever NBA player to be banned for life for violating the NBA's drug policy.
Wilkins, or 'The Human Highlight Reel' played 12 seasons in Atlanta, averaging more than 30 points a game in two seasons and almost 26 points a game overall.
All in all one of the most under-hyped genuine superstars in NBA history.
9 June 1980 – Boston Celtics traded the 1st and 13th pick in the 1980 draft to the Golden State Warriors for the 3rd pick and Robert Parish
This is arguably the biggest off-season trade in NBA history.
At the time, some may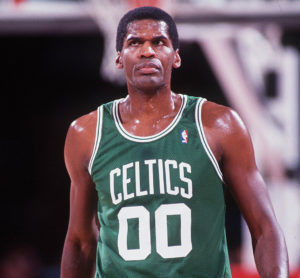 have questioned Boston for making this call as they dropped down from the coveted #1 pick but Parish had proven to be a solid centre, averaging double-doubles in his last two seasons at the Warriors. While the Warriors selected Joe Barry Carroll with the first pick, the Celtics drafted future Hall-of-Famer Kevin McHale with the third pick.
McHale finished a three-time champion (alongside Parish in all three titles) and averaged 17.9 points, 7.3 rebounds and 1.7 blocks a game throughout a stellar 13-year career. In a five year peak, he averaged more than 21 points and 8 rebounds a game as Boston made the finals in four of those seasons. Carroll had a reasonably productive career, averaging 17.7 points and 7.7 rebounds himself but he bounced around five teams with an Italian expedition between.