Pinnacle Sports Betting Review
Below is a an honest Pinnacle Sports betting review, including our user experience for sports markets on the Pinnacle.com site, the history of Pinnacle, and the pros and cons of using the Pinnacle Sports betting website.
This Pinnacle betting review will be updated through new versions of the site, new offers and unique features that Pinnacle offer.
Who are Pinnacle Sports?
Pinnacle Sports are one of the most respected and loved wagering sites outside of the U.S. for many reasons reasons, on of the best being that they've generally always got the best betting lines, something that is must have for serious bettors. They also have higher limits than the majority of bookmakers.
Pinnacle have been around since 1996 and have risen to the top of the heap without any considerable bumps in the road along the way.
Although Pinnacle Sports is definitely a major betting operation (some estimate a billion dollars + a year in revenue), they continue to operate in a very humble manner. Pinnacle rarely advertise anywhere above the line and have steered away from big, outlandish promotions and hooplah. Instead, Pinnacle provide betting lines that are consistently better than other bookmakers (both US and international) for sports and leagues around the world.
Pinnacle is currently licensed in Netherland Antilles and located in the island of Curacao. Customers from the U.S. (only recently), the U.K. and Spain are prohibited.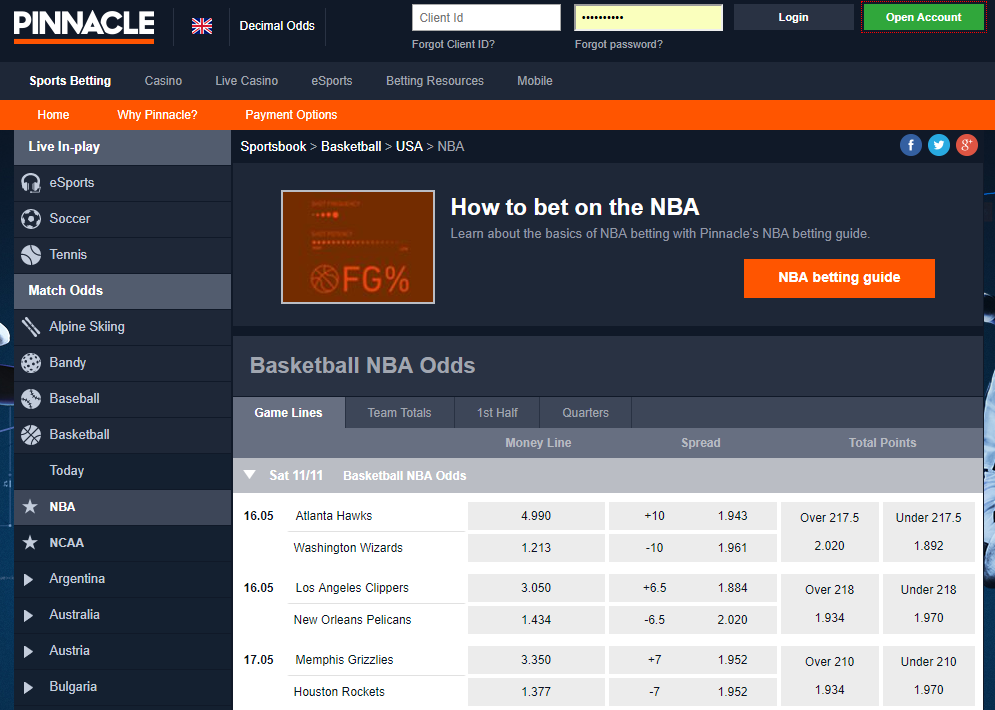 Why are Pinnacles lines so good?
Most wagering companies draw in customers by offering sign-up bonuses and free bets. Instead of going down this road, Pinnacle Sports offers better betting lines without sign-up bonuses. Keeping the customers happier, for longer.
We aren't against bonuses for free bets, but in the long run, skilled bettors always look for the best lines. The idea is to sacrifice Pinnacle's own profit margins profit margins (profit per bet) and focus attention more on volume (smaller margins, more bets).
Lower margin bets are known as "reduced juice bets." The less "juice" a betting line has, the smaller the cut the sportsbook takes (within the U.S, 5Dimes are the go-to for reduced juice)
Sportsbooks create their lines for betting markets based on their calculations of the outcome of the match, add their profit margin and a safety buffer (to cover if their calculations are wrong). The larger the profit margin and the safety buffer (Juice), the more you have to pay to the bookmaker the smaller the profit margin or the safety buffer, the less you have to sacrifice to the the bookmaker.

At Pinnacle Sports, you pay less to the bookies, it's that simple.
As a general rule, betting companies will offer you -110 ($1.91) odds on point spread bets. If they are right with their calculations, you will have to outlay $110 for every $100 you've won (the bookies always win right?).
Reduced Juice betting mean that you will only need to outlay $105 or $104 to get $100 back. The sportsbook still makes profit in the long run if it's right often

enough, but more importantly, you get a better deal, and as we said, in the long run better odds beats a great Free Bet.
Even the top gamblers have an edge of not more than a few %'s so finding the best line is very beneficial.  (5Dimes also offer "Reduced Juice").
You might think that Pinnacle enforces smaller betting limits on these games due to risking more? Nope – they have actually gone the other way and offer higher limits.. Because Pinnacle posts betting lines earlier with smaller maximum betting limits, they have plenty of time to get their lines right based on customer activity on each particular line. This means that Pinnacle usually has the highest maximum betting limits among their competitors.
Pinnacle Sports: Arbitrage and Hedging
Unlike most bookmakers, Pinnacle Sports arms bettors with the knowledge to practice bet-hedging and arbitrage. Pinnacle have an extensive array of articles detailing how bettors can use these betting systems to gain an edge and ensure they operate a profitable betting experience.
Deposits and Withdrawals
Pinnacle Sports has a client base of bettors from all over the world, both small and large bettors.
The reason they are so successful worldwide is due to the fact that they're able to offer a range of convenient deposit and withdrawal methods to customers from countries where it's sometimes to difficult. For Asian customers, deposit and withdraw via Entropay, Webmoney, ChinaBanking, and Chinese debit cards: for Australian customers, there's Poli; for Polish customers, there's Przelewy24.
Pinnacle also has the standard deposit and withdrawal options, including Visa and Mastercard, Neteller and Skrill, and different types of pre-paid cards and online banking solutions.
The Pinnacle Sportsbook
Funnily enough, even though U.S. players aren't accepted, Pinnacle offers some of the best betting markets and lines for U.S. sports. Compare Pinnacle's with other bookmaker's lines on American sports and you'll see the better line at Pinnacle the vast majority of the time. Pinnacle is often praised for is Asian Handicap bets on soccer games also.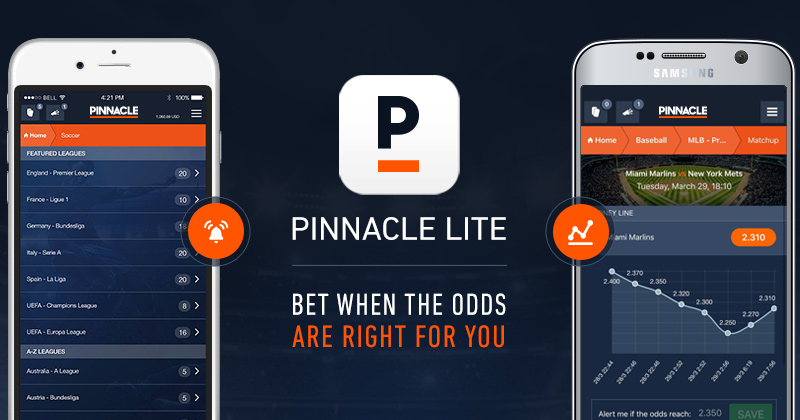 Pinnacle Sports has some of the highest betting limits in wagering and welcome professional bettors (whereas other companies may ban them if they show some success or knowledge).
Download the Pinnacle Lite app to enjoy betting on the go.
Conclusion
Pinnacle consistently offers the best odds in the wagering industry (it also lets Aussies bet live online).
For many pro bettors, Pinnacle's draw-card is its reputation for taking high-stakes wagers and not banning successful bettors, and those using professional strategies. If you bet with a rue intent of winning, then a Pinnacle membership is a must.
We've shown a lot of love for Pinnacle in this review but they deserve all the praise that we give them. It's hard to find betting sites that handle so many parts of their business so well. Customer services, ease of use, best betting lines, A+ reputation.
Instead of focusing on free bets and promotions, Pinnacle focuses on what all online bookmaker should, and that's offering competitive betting lines in a wide variety of betting markets and providing great service. Brilliant
Notes and Sources