Bookmaker.eu Review
Bookmaker.eu is one of the most established online gambling sites. Bookmaker goes way back to 1985 as a bricks and mortar operation, then launching online in 1996.
With 30+ years in the wagering industry, you can be sure that they are doing something right, with a high rating of reliability. Bookmaker.eu has also been showcased on ESPN, CBS Sports, SB Nation, Fox, Forbes and other major networks. If reliability is important to you, Bookmaker.eu have it in spades.
While trust is the most important factor, for a site to be worth our time, it needs to have more than just reliability to pass the test. We need to see what all they have to offer and where they can improve.
Trust is great, but not without a bit of flare.
This review is going to be an in-depth look at Bookmaker.eu from the ground up.
Bookmaker.eu are a top-5 sportsbook for US gamblers and here's why members like them so much:
#1 is a stellar reputation. Search online and you'll find they have many more positive reviews than negative, with most negative reviews likely to be several years old.
Bookmaker.eu is friendly to pro and winning bettors. They don't limit your account if you're a winning bettor.
They offer higher betting limits. It's common to find 5-figure betting limits for many markets and bet types.
Paying-out consistently on-time.
There aren't too many US-friendly Sportsbooks that can tick all 4 of the above points off confidently.
What we like about Bookmaker.eu
Early Lines
Their tagline of "Where the Line Originates" certainly holds true. Bookmaker.eu are generally one of the very first to post lines for baseball, basketball, football and other American markets. (Bookmaker's main competitor, Bovada, on the other hand are known for being one of the slowest o release their lines.)
Track Record
The beginnings of Bookmaker.eu go back 30+ years, and they've been in business online for almost 20 years. Although they've gone through ownership changes and members have been directed from one domain to another in the past, they've never had delays in payout times. Bookmaker.eu customers have always been able to get paid on time.
Professionals Are Welcome
Another significant difference between Bookmaker and competitors is their stances on professional bettors (those who take betting seriously and know the systems that can beat the bookmakers.). Bookmaker welcomes players of all levels, from newbie bettors to professionals.
Higher Betting Limits
Bookmaker not only allows members to bet the same amount of money regardless of skill level (unlike other bookmakers), but their max betting limits are higher.
What's we dislike about Bookmaker.eu
Payouts can be a tad slow
While they have a solid history of on-time payouts, the time it takes payouts to arrive in accounts is longer than some other competitors, like BetOnline and Bovada (whom generally deliver check payouts in around a week; Bookmaker can sometimes take up to a month to do the same).
Sharp Lines
While known for posting early lines, they're not always the best lines available to bet on. So while Bookmaker doesn't avoid professional bettors, they can afford not to due to offering sharper lines.
Payout Fees
Bookmaker charges $50 per check payout, while Bovada allows one free check payout each month. If you're dealing with larger amounts in the thousands of dollars, this charge takes a large chunk out of your withdrawal.
The Sportsbook
Bookmaker.eu has an large, well organized sportsbook that's ideal for sports bettors of all levels.
One of the benefits is that they are one of the first sites to post betting lines on most major sports. While we enjoy line shopping with other bookies, it's good to be able to get a heads start on your NBA betting strategies for the day.
Reports have said that the Bookmaker.eu odds-makers know what they are doing and are sharp when it comes to setting their lines. This means that you'll find less chances to take advantages of mistakes, but you'll still be able to take advantage of moving lines thanks to the ignorant public. With 30+ years in the industry it's not surprising that they've been able to stay profitable for so long, attention to detail certainly stands for something.
Website Layout
It's a clean and minimalist layout. Navigation is easy to figure out and user-friendly.
All major sports markets/categories are listed on the LHS and when clicked expand to show the available markets in each category. One thing we really liked was that above these sports categories were the following sections:
Today's Events
Today's Live Betting
Most Popular
Closing Soon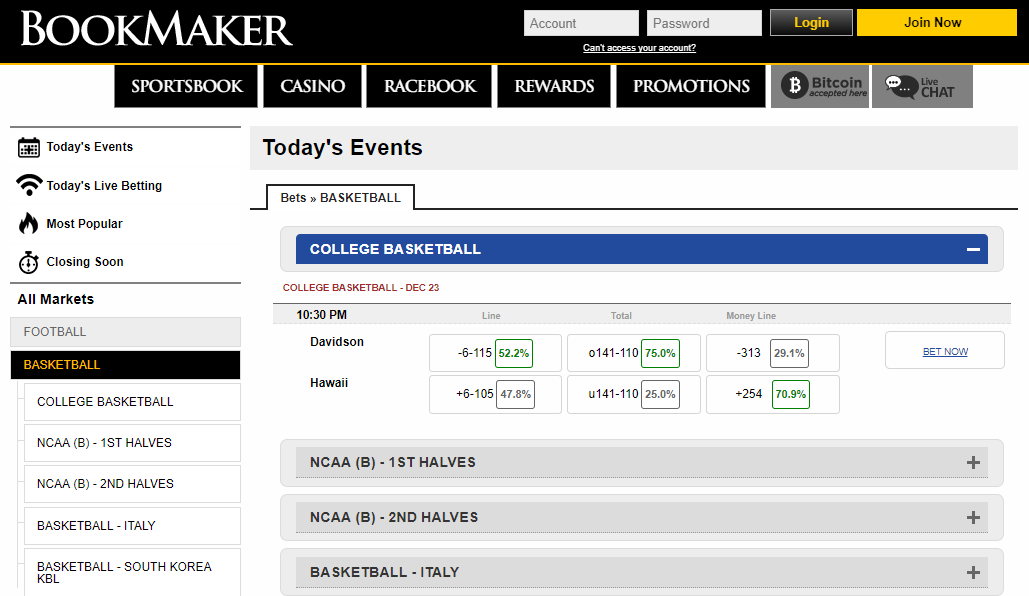 These are great to help find live-betting and upcoming markets quicker.
Most Popular and Closing Soon are great for the times you need to place a last minute bet or are looking for an event. It's annoying when you go on to bet on larger events, such as the NBA Finals, and have to filter through other markets to get to get there. Sites should know that popular bets are what the majority of customers are looking for. Bookmaker.eu does this well.
We would like some improvements to their live betting section. It's great to see it, but we were unable to see how it worked because the markets are only visible when when a game is going on.
We'd love to have the ability to search markets or possibly flag our favorite teams. We have seen this appearing up on newer Sportsbooks and would love to Bookmaker.eu follow suit
Betting Limits
Bookmaker.eu have their betting limits laid out clearly and judging by the sizes, they are pro-friendly and not just looking to service amateur and losing bettors. The FAQ state that these limits can be raised for high-end clients upon request.
Online Min: $1
Online Max: $5,000
Phone Min: $100
Phone Max: $20,000
These can all be raised by contacting support.
Sports available to bet on at Bookmaker.eu
Bookmaker offer an extensive range of sports betting markets and categories. The site only lists sports and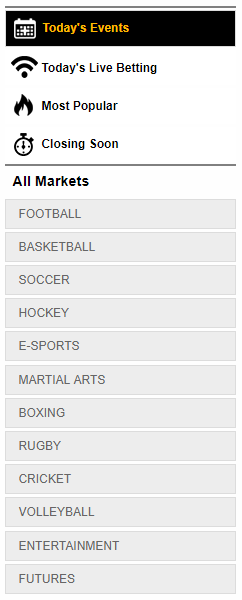 leagues that are in season or have betting markets available. This is good from a visitors standpoint as there is no need to sort through dead-markets to find the market you're after.
If you don't find the market you'd like to bet on, check the site when the sport is in season or contact customer support to request a market (they are usually happy to oblige). We noticed that in some categories they had every league you could imagine, while in others, they only listed the larger markets.
For example, they had many basketball leagues markets available including obscure European leagues, while for Mixed Martial Arts they only had the UFC and none of the smaller organizations that were available and in-season at the time.
Current list of sports offered at the time of this review –
| | | |
| --- | --- | --- |
| Basketball | Golf | Cricket |
| Baseball | Martial Arts | Aussie Rules |
| Soccer | Boxing | Surfing |
| Hockey | Horse Racing | eSports |
| Tennis | Motor Racing | Cycling |
| Football | Rugby | Futures |
They also list an extensive range of Reality TV and Entertainment markets, for the real gambling degenerates out there, including –
| | | |
| --- | --- | --- |
| Keeping Up with The Kardashians | The Amazing Race | American Idol |
| The Oscars | The Voice | |
| Politics Betting | Big Brother | The Grammys |
| Presidential Elections | Miss America | America's Got Talent |
| Reality TV | Miss Universe | Survivor |
| Dancing with the Stars | The Bachelor | X Factor |
The types of bets you can make vary for each sport, but generally Bookmaker.eu offers all of the major markets plus a little more including, parlays, money lines, straight bets, point spreads, teasers, pleasers, over/unders, futures, if bets, reverse and props.
One thing we noticed is how much they lay their focus on major US sports. It reminded us of one of the major complaints about Bovada and the fact that they don't cover enough international markets.
Bookmaker offers a large range of non-sports related markets, available in the entertainment section (list shown above).
Deposits and Withdrawals
A good selection of available options for both deposits and withdrawals.
When selecting a different country from the banking menu, you are given pretty much the same options bar a few differences for each country. As they are geared heavily towards US based customers, we will list those options –
Deposits
AMEX
Min: $25
Max: $499 per transaction. $2,000 daily, $4,000 weekly, $8,000 monthly
Notes: Available online or over the phone
VISA
Min: $50
Max: $2,500 per transaction. $2,500 daily, $5,000 weekly, $10,000 monthly
Notes: Available online or over the phone
MasterCard
Min: $50
Max: $999 per transaction. Maximum monthly varies between $4,000 and $8,000 most likely depending on your bank.
Notes: Available online or over the phone
Verified by VISA
Min: No posted minimum
Max: $2,000 daily, $4,000 weekly, $8,000 monthly
Notes:
Bitcoin
Min: $10
Max: $50,000
Notes: Bitcoin deposits come with more bonus options, additional loyalty program upgrades, and free withdrawals
Neteller
Min: $100
Max: $10,000
Notes
ECO
Min: $100
Max: $1,000
Notes:
Person to Person Transaction
Min: $100
Max: $2,000
Notes: If the deposit is under $300 with this method, there will be a $7 fee for online transactions and a $14 fee for phone transactions
Person to Person Transaction
Min: $100
Max: $1,000
Notes: Fees listed look to be the same for under $300 transactions
Bank Wire
Min: $2,500
Max: No Max!
Notes: Available to be done in USD, EUR, GBP, or CDN
Withdrawals
Person to Person Transaction (Moneygram & Western Union)
Min: $100
Max: $300
Fee:
$25 fee for $100 – $299
$35 fee for $300 – $499
$50 fee for $300
Notes: Never use this method unless you have to. These fees are ridiculous.
Bank Draft (Cheque)
Min: $100
Max: $3,000
Fee: $50
Notes: Sent via regular mail and take up to 7 business days. One request per 7 days allowed.
ECO
Min: $100
Max: $1,000
Fee: None.
Notes: You have to have at least deposited once through this method to use it. Once per 7 days only, and withdrawals can take 2-3 business days. Only available to non-US customers.
Bitcoin
Min: $50
Max: $25,000
Fee: No fees were listed, and we are assuming there are none
Notes: Limit to one per day, up to $25,000, 5 per week up to $100k, 25 per month up to $100k. Higher limit players will be able to get access to higher limits.
It looks like you can deposit with whichever method but when it comes to withdrawals, it's recommended to use Bank Draft or Bitcoin methods as the fees are less or zero. Bookmaker.eu require that you play through your deposit once before a withdrawal is possible. This is standard across the industry and to prevent shady dealings such as money laundering.
Bookmaker.eu's Bonuses 
50% CASH Welcome Bonus – Bonus up to $1,000, ONLY for Bitcoin deposits. 15x rollover and cannot be used to transfer cash into the poker area.
50% Welcome Bonus – Bonus up to $300 for Sportsbook and for the casino ($300 each). 10x rollover for sports and 40x rollover for casino.
Sportsbook  Specific Promotions
15% Welcome Bonus – This welcome bonus is smaller than the general one but is designed for smaller players who want an easier to earn bonus. There is a promo code on the promotions tab that you will have to use for this.
Gold Reward Level –
0 to 29,999 BetPoints: Qualify for instant Gold status upon signing up!
Benefits:
For every re-load of $300 or more receive:
10% free play deposit bonus*
(3 time rollover required, max bonus awarded $2,500)
All depositing fees reimbursed
1 FREE Debit card payout per month (30 day period) (must be $300 or more)
Platinum Reward Level:
From 30,000 to 299,999 BetPoints: After earning 30,000 BetPoints in a 12 month period, your account will be moved to the Platinum level of the rewards program.

Benefits:
For every re-load of $300 or more receive:
10% free play deposit bonus*
(3 time rollover required, max bonus awarded $2,500)
All depositing fees reimbursed
Platinum Members also get:
1 FREE Debit payout per month (30 day period) (must be $300 or more)And your BetPoints earn you 10% more than Gold Level
Diamond Reward Level –
300,000 and up: After earning 300,000 BetPoints in a 12 month period, your account will be moved to the Diamond level of the rewards program.

Benefits:
For every re-load of $300 or more receive:
15% free play deposit bonus*
(4 time rollover required, max bonus awarded $2,500)
All depositing fees reimbursed.
Diamond Members also get:
Access to 24/7 dedicated VIP customer service representatives with special toll free number.2 FREE Debit payouts per month (30 day period) (must be $300 or more)And your BetPoints™ earn you 10% more than Platinum Level.
Note – If you deposit $300 or more, you'll automatically become a Gold VIP. Deposit $900+ and you'll automatically become a Platinum VIP.
There's nothing wrong with earning points, since they're used for other perks.
Bookmaker is a top-5 recommendation for anybody betting in the USA. It's rare to find wagering sites that accept US customers that have a strong, reliable track record. It could be said that they have the strongest track record overall.
Highly recommended.