Spud Webb wins 1986 Slam Dunk Contest
At 5'7 Spud Webb is the shortest player to ever compete in an NBA Slam Dunk Competition, and one of the shortest in NBA history. The fact that he won it defies everything in the world that screams common sense.
The 1986 Slam Dunk Contest begun with the following lineup –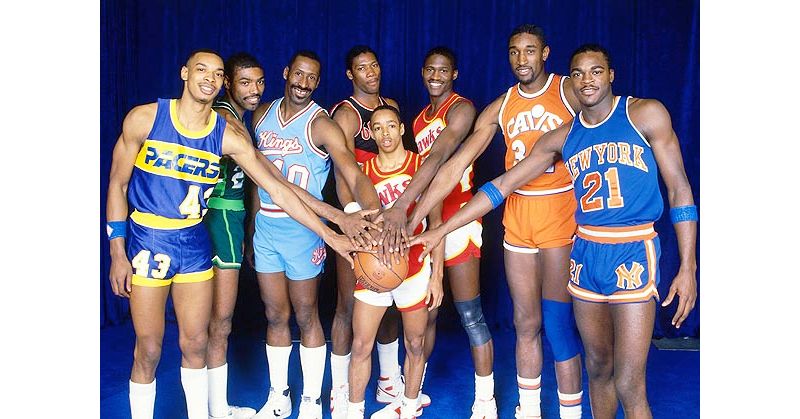 From Left: Terence Stansbury (Indiana Pacers) , Paul Pressey (Milwaukee Bucks), Terry Tyler (Sacramento Kings), Jerome Kersey (Portland Trail Blazers), Spud Webb (Atlanta Hawks), Dominique Wilkins (Atlanta Hawks), Roy Hinson (Cleveland Cavaliers), and Gerald Wilkins (New York Knicks).
Spud shocks the world
Webb surprised everybody by his participation in the NBA Dunk Contest, including his teammate and favourite for the trophy, Dominique Wilkins, who Webb stated had "never seen me dunk before".
Spud's dunks included an elevator two-handed double pump dunk, a reverse double pump, a 360-degree one handed helicopter jam and a delicious two-handed strawberry jam from a lob-bounce pass off of the floor.
Sure there was probably an additional 3-4 points per dunk due to surprise factor, but nobody could ever doubt that he produced a quality performance. The fact that he could even touch the ring was enough for people to spill their beers.
Webb defeated teammate Wilkins with two perfect scores of 50 in the final round. Despite Wilkins' powerful double handed windmill dunks and head above the rim throw downs, he just couldn't get over the line.
Hawks coach Mike Fratello said – "Spud kind of duped him. He told Wilkins he never had anything prepared, didn't practice for it. So, Wilkins maybe thought his normal assortment would be good enough to get through"
Spud Webb wins the 1986 Slam Dunk Trophy
Every now and then when we feel we can't hand that report in by 5pm, or we can't be bothered doing the laundry on a Sunday morning we remember that back in 1986, a 5'7 man won the NBA Slam Dunk Contest, and realise that anything is possible.
Spud Webb, we remember…