Michael Jordan – The Last Shot – 1998 NBA Finals
In Game 6 of the 1997-98 NBA Finals, Michael Jordan proved that fairytales are real.
With the Bulls down 83-86 following a John Stockton 3-pointer with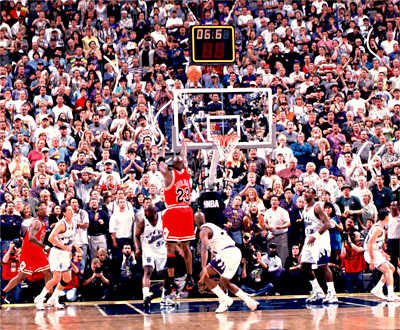 41.9 seconds on the clock, Phil Jackson calls a a timeout and draws up a play for Jordan to score quickly to give the Bulls a chance at a 2 for 1 possession.
Jordan makes a quick layup, and with the scores now 85-86 with 37.1 seconds on the clock, the Jazz bring the ball up the floor, with a plan to run a play for Malone on the low post.
Malone receives the pass in the post from Stockton, however Jordan never clears the post area to follow matchup Jeff Hornacek, and strips the ball from Malone with 20.1 seconds on the clock.
It seemed like we all knew what was going to happen, but not how it would happen.
The final moments of the 1998 NBA Finals
Bringing he ball back up the court, Jordan went full isolation on Byron Russell at the top of the key, drove to his right and crossed over Russell with a slight "push" of the left hand, and sunk the most clutch basket in NBA history with 5.2 left on the clock.
The prolonged follow through and extension from Jordan after releasing 'The Shot' was almost like he was knowingly creating a moment in history.
The Jazz brought the ball back up with John Stockton coming agonizingly short on a three-pointer,
The Chicago Bulls win their second three-peat, Michael Jordan leaves the court with 45 points, and the world sees Jordan as a Bull for the last time.
'The Last Shot', in Jordan's own words
What did they have to say about the "The Last Shot"?
Jordan – "When the crowd gets quiet, the moment is there," Said Jordan. "Once you get into the moment, when you know you are there, things start to get quiet, and you start to the read the court very well. When Russell reached, I knew the moment was there."
Phil Jackson – "I didn't think he could top that performance," Said Coach Phil Jackson referring to the "Flu Game." "But he topped it here tonight. I think this was the best performance ever that we've seen from Michael Jordan to win a game, win in a critical situation and critical game in the series. He's proven it so many times, over and over again. Michael's the guy who always comes through in the clutch. He's a real-life hero."
Michael Jordan, we remember…