Derek Fisher 0.4 Second Game Winner
On May 14th, 2004, Derek Fisher hit a shot that would go down in history for 2 separate reasons...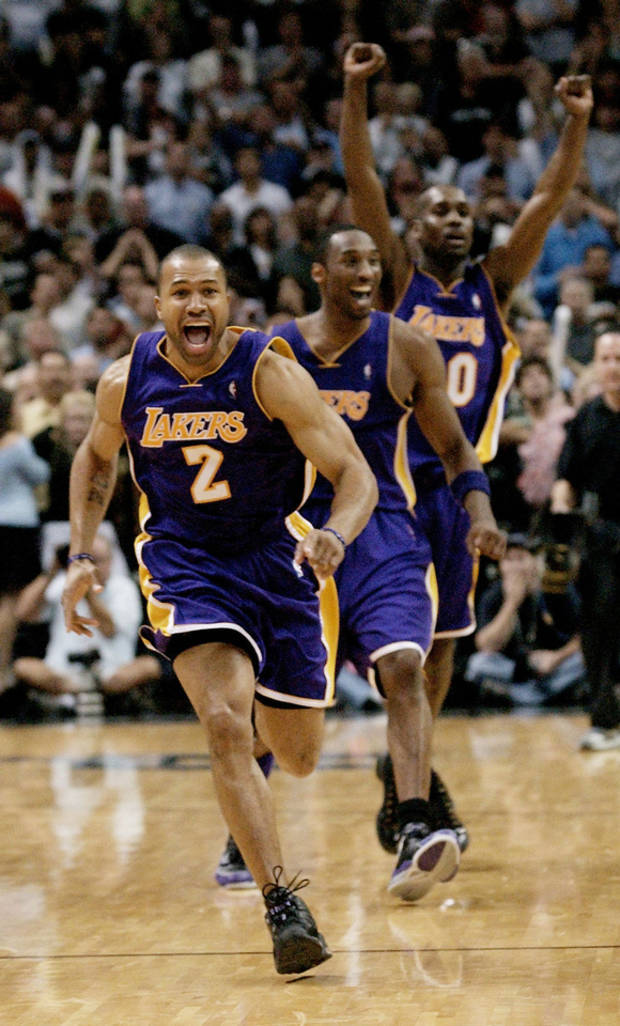 Hitting the game-winning shot in Game 5 of the Western Conference Finals against the San Antonio Spurs with 0.4 seconds left on the clock.
Unofficially breaking the 100 meter World Record on the way back to the locker room, getting dressed, calling his mates and making it onto the team bus before the shot was even reviewed.
With the 2004 Western Conference Semi-Finals locked at 2-2, the Lakers were well and truly on the ropes at AT&T Center in Game 5.
All looked to be over for the Lakers after Tim Duncan sunk a miracle running jumper over Shaq from the top of the key to put the Spurs up 73-72 with 0.4 left on the clock. Then cometh the moment, as Phil called the timeout, and sent Gary Payton to inbound to Fisher.
There are many short clips but we like the full lead up…
"One lucky shot deserves another" said Shaq referring to Derek Fisher's game winner.
"I couldn't believe it went in, honestly," Duncan said of his shot to put the Spurs up 73-72. "They played the dribble-handoff great and I just had to take a shot, let it go as high as I could, knowing that Shaq was there."
Fisher was equally surprised by his 0.4 second game-winner but was smart enough to leg it before doubt crept in.
"I just wanted to get out of there and not give them an opportunity to think that we didn't believe it went in."
For those questioning whether the shot was made – 
Here are the 2 frames that separate the release and the shot clock light going off.
The celebration didn't last long as heavily favourite Kobe, Shaq, Malone and Payton stacked Lakers faced off against the underdog Pistons in the Finals, losing 4-1.
But Derek Fisher, we remember you…