2018 BetOnline Review
Below is a comprehensive and honest BetOnline review, including our user experience for sports markets on the betonline.ag bookmaker site, the history of BetOnline, and the pros and cons of using the BetOnline betting website.
This BetOnline review will be updated through new versions of the site, new offers and unique features that they offer.
---
Who are BetOnline?
Known mainly for their sportsbook markets, www.BetOnline.ag is an "all-in-one" gambling website, also offering casino and poker to their members.
The only time that BetOnline have found themselves in any hot water was around 2011 when problems were occurring during new the launch of their poker site (we'll dig into this a little later on).
BetOnline has been around since 2004 and is licensed in Panama. If you're a little curious about the strange Betonline.ag domain address, the website site begun as BetOnline.com but transferred to .ag in 2012 because of increased pressure from the Department of Justice (whom seized a few .com wagering and gambling domains in 2011). BetOnline and many other gambling sites took measures to avoid this and changed domain names.
---
Can you trust BetOnline?
In short, yes you can trust them, they are surely one of the more trusted options for online gambling in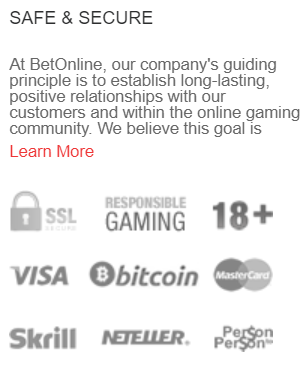 2017 for US players, and we have many clients who use them hassle free daily for NBA betting and other markets. Don't always believe the few people who throw negative words at BetOnline because they lost some money. The many signs of a sore loser.
Along with being a safe option for bettors and paying out winnings on time, BetOnline.ag offer a heap of betting markets and casino games. We'll take a look at all of that later in this review.
---
What do we like?
BetOnline takes customers from all 50 states and is one of the only gambling sites to do so (difficult to find any others to be honest). Reports from numerous forums suggest that their customers have consistent success with credit card deposits, so they get an A+ from us for ease of deposit.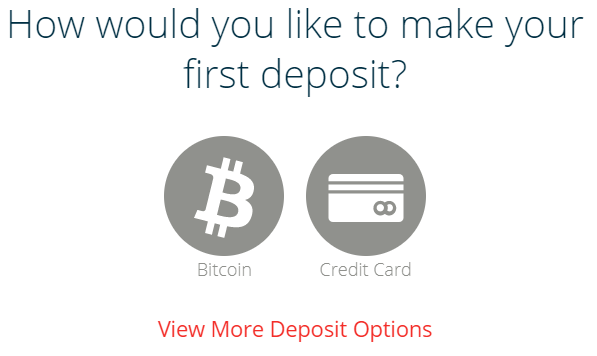 Depositing funds to gambling websites and, to a larger extent, withdrawing funds has been a large issue for US bettors since 2006 and the Unlawful Internet Gambling Enforcement Act. It's a relief to know that BetOnline offers what is perhaps the most flexible banking options in terms of variety.
BetOnline's sportsbook is a great fit for those looking to bet on US sports markets while offering a decent amount of international wagering markets (perhaps not as much as others, but enough). While signing-up at BetOnline may not be essential for internationals, we would certainly recommend it for US bettors due to the fact that decent online bookies are hard to come by in the States.
With over 10 years in the betting business, lots of USA betting markets and banking options and an A grade reputation amongst bettors, US residents should consider these guys one of the go-to online betting websites.
---
What do we not like?
We always like to  promote the good, but it's equally important to get to know the bad so that you'll get to know possible deal-breakers without wasting any time reading this BetOnline review. We already mentioned some of the problems that occurred following the launch of BetOnline.ag Poker back in 2011. These problems involved the following situations –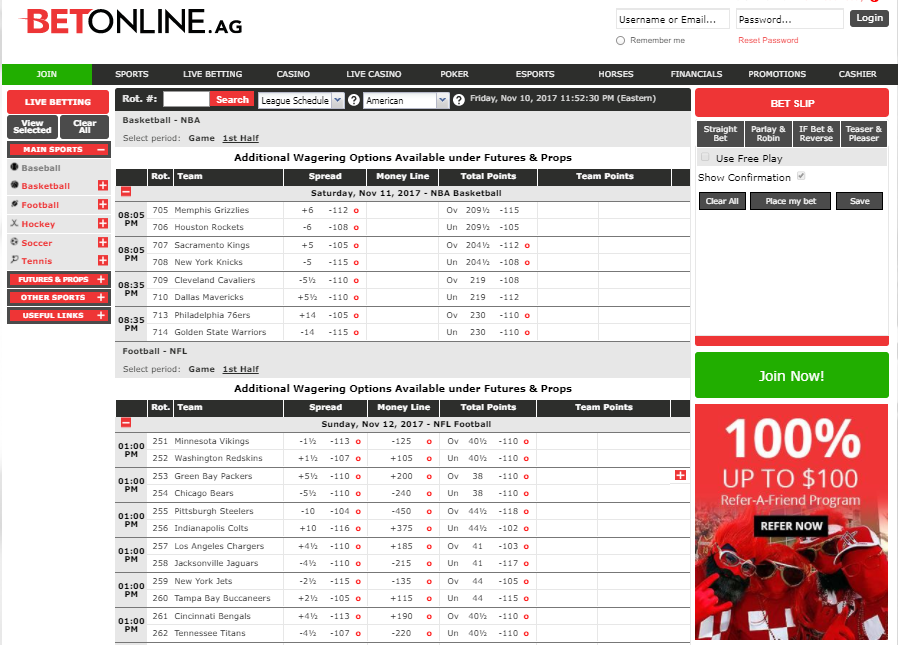 Claiming to be on their own network even though they were on Action Poker network. (Action Poker is known as Chico Poker nowadays.)
Customer service knew member's passwords. This was revealed in a live chat session with a customer. This should never happen and passwords should be stored in an indecipherable form.
In the beginning, customers were able to play using multiple accounts on the same internet connection. A pretty rookie security error. There should have been no way for two accounts to play using the same internet connection at the same time.
There were a few people on forums bringing up that BetOnline confiscated their funds, (some amounts in the thousands). While this could be alarming it's worth noting that people often complain about these things when they're caught cheating (a lot of this was occurring at the time).
In 2017, the reputation of BetOnline Poker is much improved and we view it as one of the best options for USA customers. To go along with this, BetOnline's sports betting and online casino have always had a solid reputation and that's why they're one of our top recommendations.
---
BetOnline Cashouts and Deposits 
As we said earlier, BetOnline's customers are reporting high success rates with credit card deposits (as compared to the majority of other US gambling sites). If you're looking to use a credit card as your deposit, BetOnline is one of the better gambling sites to do it on.
The site also offers a nice variety of banking options for USA customers:
BetOnline Deposit Methods – 
BetOnline will accept credit and debit cards by Visa, Mastercard, Bitcoin, JCB and Diner's Club (Amex deposits are accepted but you need to have deposited at 5 or more times to use this option) in addition to "Visa via Person to Person" and secured Visa payment vouchers.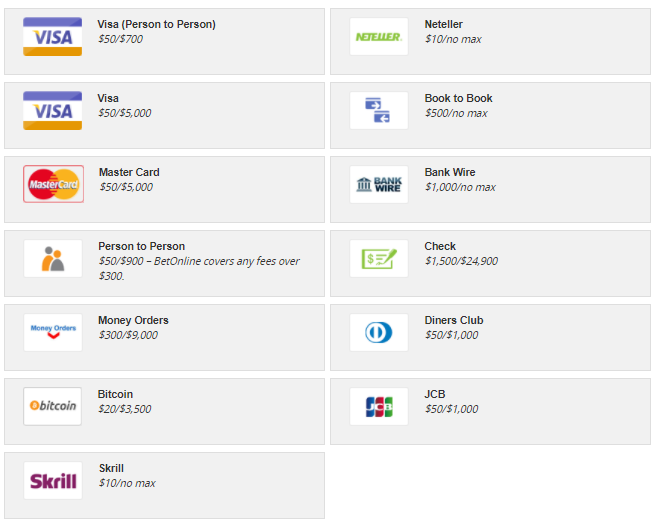 Credit Card deposits have a 6% deposit fee (which is a bit of a downside) and are one of the only USA sites charging fees for card deposits (the other is Bovada at 4.9% deposit fee).
---
BetOnline Cashout Methods 
You request a withdrawal to your credit card but only after making at at least five deposits and having your BetOnline account active for a month of longer.
Many US-friendly gambling websites cover the costs for at least one cheque withdrawal per month, unfortunately this is not something BetOnline offer that we are aware of. They will charge a $25 fee per standard cheque or $50 if you want the check to be deliver within 7 business days.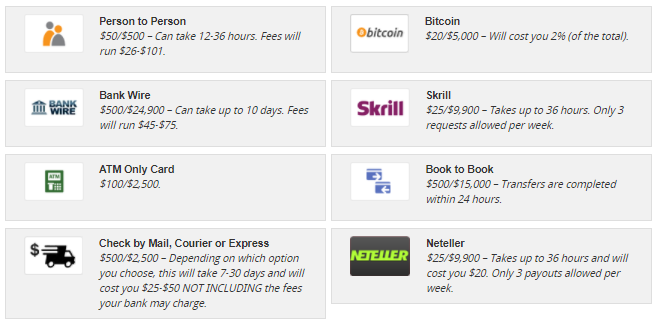 You request a withdrawal to your credit card but only after making at at least five deposits and having your BetOnline account active for a month of longer.
Many US-friendly gambling websites cover the costs for at least one cheque withdrawal per month, unfortunately this is not something BetOnline offer that we are aware of. They will charge a $25 fee per standard cheque or $50 if you want the check to be deliver within 7 business days.
Although they say nothing about it on their website, some reports suggest BetOnline gives you a $50 credit every month if you put in your Cashout request on a Friday. This may not always cover the entire fee, but it is better than nothing at all.
---
Sports Betting Markets
BetOnline's sports betting markets are catered towards the US bettors with plenty of NFL, NBA, MLB, and other popular American sports betting markets available. There is also a best in class page for e-Sports betting where you can stream the matches for each market live as they happen.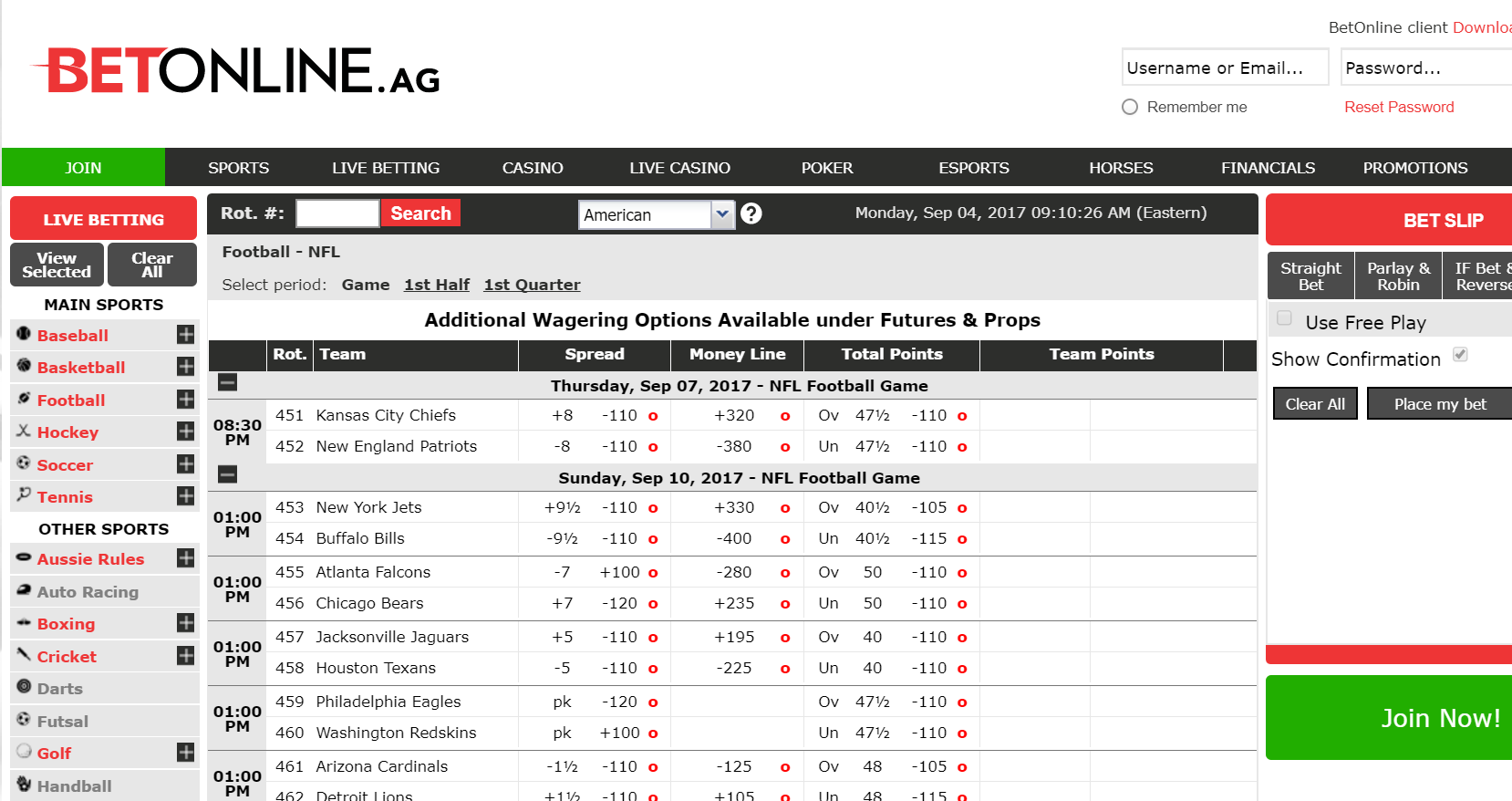 The betting options and props will satisfy most US sports bettors. Their live betting options are sufficient, and with a now improved betting interface and mobile experience, it's even easier to find the markets that your looking for.
They also post their betting lines faster than many of their competitors and those of us who who take sports betting at least a little seriously can appreciate this. Particularly for US sports where there a multiple games each day for sports such as MLB and NBA.
Regarding betting limits, BetOnline's Sportsbook ranks among the middle-tier within the US. With a minimum betting limit of $1.00 and a maximum limit up to $25,000 (NFL Thursday-to-Sunday spreads), they're can faciliate bettors ranging from small bettors to high rollers. NBA limits go up to $10,000 (sides) and $5,000 (moneylines and totals). The NHL bets max. at $3,000 with some of the smaller sports and exotic markets capping off just a few hundred dollars.
Their sportsbook has gained popularity in America due to its reliability, but because and some great seasonal promotions and local betting lines. One of the main reasons we rank BetOnline so is for it,s Sportsbook.
---
The BetOnline Sportsbook Bonus
New customers will get a 50% deposit bonus up to $2,500 on their first deposit (minimum $50 to qualify for the Bonus). The bonus has a x10 rollover requirement and you need to use the bonus code . The bonus is good when compared to the competition and one more reason join this sportsbook.
To go along with the deposit bonus, you can also get bonuses for live betting ($25) and mobile betting ($50). These function different from the usual first-time deposit bonuses, as you'll get the bonus money only in case you lose (so basically they'll reimburse your bet in case you lose).
---
BetOnline Review Conclusion
The biggest issue for us is their banking fees. Not only do you pay fees for every option – including bitcoin – their fees are pretty high, too. The flip side is they offer $50 credits once per month if you turn in your request on a Friday, which is nice.
When you consider that they offer 3 products (sports, casino, poker), accept customers from all 50 states, and have picked themselves up from a rocky start to turn things around and become a respected and secure online business is a good sign that they are taking things seriously.
Love their new interface and 50% Recharge Bonus on each deposit up to $1,000. Very nice.
This BetOnline Review will be updated as changes to the product are made.
Notes and Sources –
BetOnline
Pros
Great Deposit Bonus
50% Recharge Bonus with each deposit
Quality Sportsbook
Early lines
Attractive, simple to use website
Cons
Customer Service
Fees for credit deposits
Shaky start to their operations