Vince Carter's Dunk in the 2000 Sydney Olympics
At the Sydney Olympics in 2000, Vince Carter jumped over a 7-foot-2 Frenchman's head and dunked the basketball, that's the short story, and basically all you need to know.
But here's the long story…
With 16:06 left in the 2nd half of a group game  between the USA and France, Frenchman Yann Bonato grabbed a rebound that would lead to the most epic dunk in the history of the Olympics, and possibly basketball history.
With Bonato looking to push the ball up the floor with a behind the back pass, Carter cuts it off, takes two dribbles, 5 steps and launches himself higher than any man I've seen under his own power.
What happened next is a moment that would provide one of the most iconic basketball plays in history, in an otherwise forgettable matchup.
"My teammates were running back on defense and they were running on offense, but it was a change of possession so they couldn't get back," Carter said "So I just tried to attack the rim before they could actually stop me or make me pull the ball out."
Watch Vince Carter's Epic 2000 Olympics Dunk
Frédéric Weis gets dunked on and questions his entire existence in this short clip. 
"I see him after the steal, I take two dribbles and I go up. I'm now looking at the rim, I'm not paying attention to him," Carter recalled. "I remembered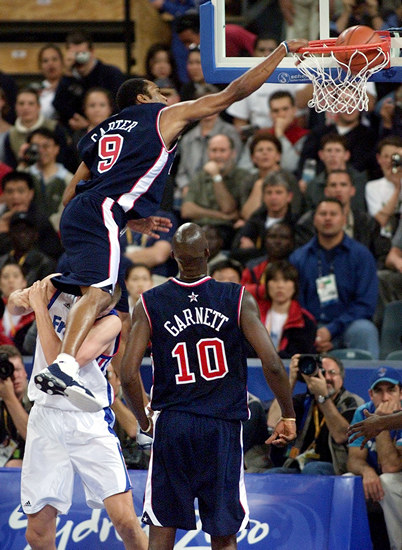 the initial touch on the shoulder, but after that I'm focused on the rim and making it."
Weis looked like he was set to take a charge, but instead copped one of the biggest tea-baggings in the history of professional sports.
"I remember watching it seven straight times, like still, wait a minute, I actually cleared this man. Seven straight times before it actually sunk in that that's what really happened."
We at The Midfield hope that Frédéric Weis has since made a full emotional recovery from being posterized and de-humanized within the one play.
In 2000, Vince Carter also won the NBA Slam Dunk Contest in what is widely regarded as the best Slam Dunk Contest performance of all-time. The man could jump.
Vince Carter, we remember…